Physics Classes for Kids: Exploring Science Through Fun Learning Experiences
Physics classes for kids are designed to ignite curiosity and excitement about the subject through engaging activities and real-world applications. Let's embark on a journey to explore how these classes can spark your child's imagination and love for science.
Imagine a world where your child eagerly anticipates their next physics class, excited to discover the secrets of the universe. Sounds like a dream, right? Well, it's time to turn that dream into reality. Physics classes for kids are designed to ignite curiosity and excitement about the subject through engaging activities and real-world applications. Let's embark on a journey to explore how these classes can spark your child's imagination and love for science.
In this blog post, we will discuss how to get kids excited about physics, the role of modern technology in physics education, the benefits of scaffolded learning, and how to choose the right physics course for your child. Get ready to uncover the fascinating world of physics and inspire a lifelong love for science in your little ones.
Key Takeaways
Engaging and interactive methods such as hands-on demonstrations, cartoon visuals, educational presentations, and humorous quizzes can help children explore the fascinating world of physics.
Quantum physics opens doors to diverse applications while material science provides tangible connections between scientific concepts and everyday life.
Modern technology enables an immersive learning experience through electrical engineering activities, virtual simulations & experiments in structured classes with fun activities like scavenger hunts & games.
Getting Kids Excited About Physics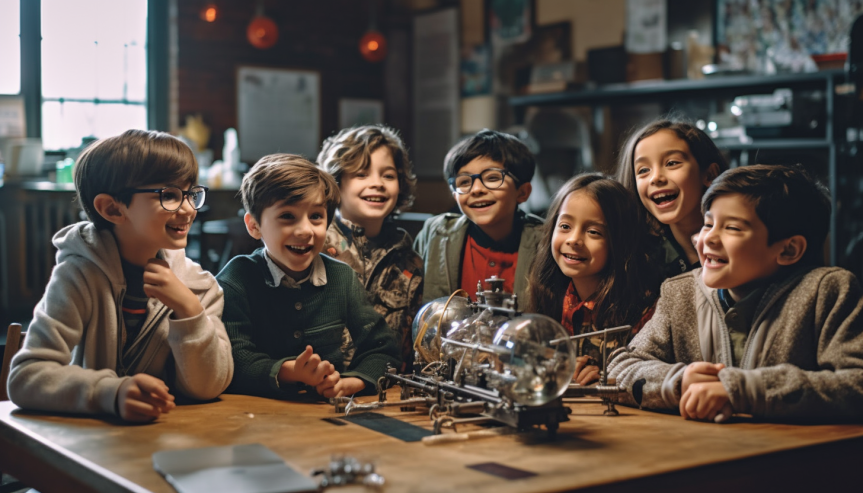 Children are naturally curious, and physics is a subject that can captivate their imagination like no other. From the smallest particles to the vastness of the cosmos, physics helps us understand the fundamental laws governing the universe.
The question is, how can this seemingly complex subject be made approachable and stimulating for children? The answer lies in:
hands-on physical demonstrations
cartoon visuals
educational presentations
humorous quizzes
These methods bring abstract concepts to life and make them more engaging for children.
Linking quantum physics with real-world applications like renewable energy and material science allows children to perceive the relevance of physics in their day-to-day life. This helps them develop a genuine interest in the subject and become more open to exploring the fascinating world of physics.
Quantum Physics Opens Doorways
Quantum physics, a branch of physics that examines the behavior of matter and energy at atomic and subatomic levels, can seem daunting at first glance. Nevertheless, if the subject matter is meticulously structured and children are supported through each learning stage, even intricate concepts like quantum entanglement can become comprehensible and enjoyable.
Moreover, the applications of quantum physics are incredibly diverse and captivating, ranging from quantum computing to quantum teleportation. Presenting these advanced applications to kids can make them enthusiastically absorbed in the subject, making them anticipate each day of learning and discovery.
Material Science and Everyday Life
Material science, another interdisciplinary field, combines principles from engineering, physics, and chemistry to understand and utilize materials for practical applications. The beauty of material science is that it can be found all around us – from the metals in construction to the plastics in packaging.
Relating material science concepts to daily life can help children gain a deeper understanding of the world and appreciate the influence of materials in our daily existence. This connection helps make physics more approachable and relevant, allowing kids to see the value of learning about the subject.
Modern Technology and Physics Education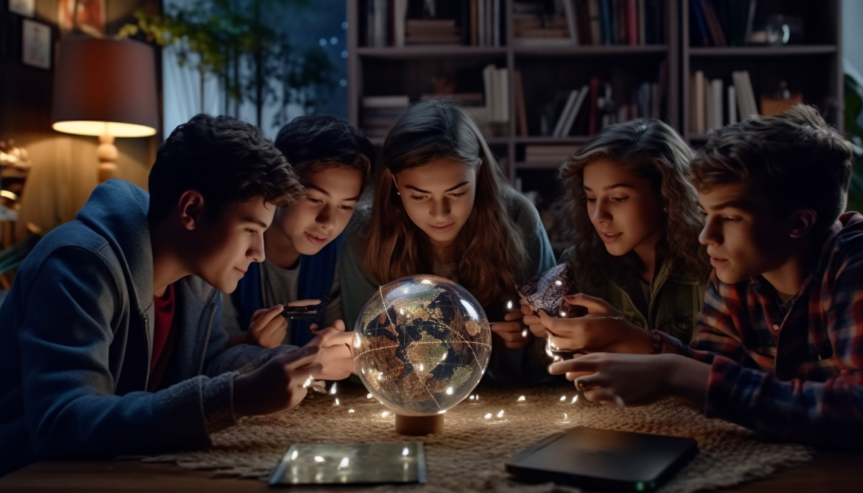 Modern technology has revolutionized the way we teach and learn, and physics education is no exception. Capitalizing on advancements in technology allows us to offer students a more immersive and engaging learning experience that transcends the traditional classroom environment.
Technology offers a wide range of modern tools to enhance physics education, such as electrical engineering activities and virtual simulations or physics kits like ones from MEL Science. These interactive experiences can help students gain a more comprehensive understanding of physics concepts and principles while cultivating problem-solving and critical-thinking skills.
We'll explore how electrical engineering activities and virtual simulations can enhance physics learning for children.
Electrical Engineering Activities
Electrical engineering activities can transform abstract concepts into tangible learning experiences for kids. Projects like constructing circuits, designing robots, and programming microcontrollers help students comprehend electrical engineering principles and apply them to practical challenges.
Hands-on activities not only make learning fun, but also provide a solid foundation for understanding the underlying principles of electrical engineering. Partaking in these projects allows children to stimulate their curiosity and cultivate vital skills that will be beneficial in their future endeavors.
Virtual Simulations and Experiments
Virtual simulations and experiments offer a safe and interactive environment for kids to explore physics concepts without the limitations of a traditional classroom setting. These immersive experiences allow children to investigate topics such as:
Motion
Force
Energy
Electricity
In a carefully structured, controlled, and engaging virtual space.
The advantages of virtual simulations and experiments go beyond just fun and entertainment; they also help children develop problem-solving abilities and analytical thinking skills. Integrating these advanced tools into physics education guarantees that children receive a comprehensive and engaging learning experience.
Scaffolded Learning: Structured and Supported Physics Classes
Scaffolded learning is a teaching method that offers students a structured and supported learning experience, breaking down complex tasks into smaller, more manageable steps while providing guidance and support throughout the learning process. This approach is especially beneficial for physics classes, as it enables students to scaffold complex topics, develop a deeper understanding of the material, and gain the confidence to apply their knowledge in real-world situations.
Through scaffolded learning, students can explore the periodic table, discover interesting concepts in physics, and engage in electrical engineering activities, all within supported stages of a supportive and nurturing environment.
We will examine how scaffolded learning can render physics classes enjoyable and captivating for children.
Periodic Table Fun
The periodic table, a tabular arrangement of chemical elements, provides an organized approach to classifying and understanding the properties of various elements. By introducing fun activities like periodic table scavenger hunts, games, and posters, kids can learn about elements and their properties in an enjoyable and engaging way.
These activities not only make learning about the periodic table exciting, but also help kids develop a solid foundation in chemistry, which is essential for understanding more advanced physics concepts. Incorporating entertaining periodic table activities into physics classes can instill a love for science and learning in our children.
Neat Things in Physics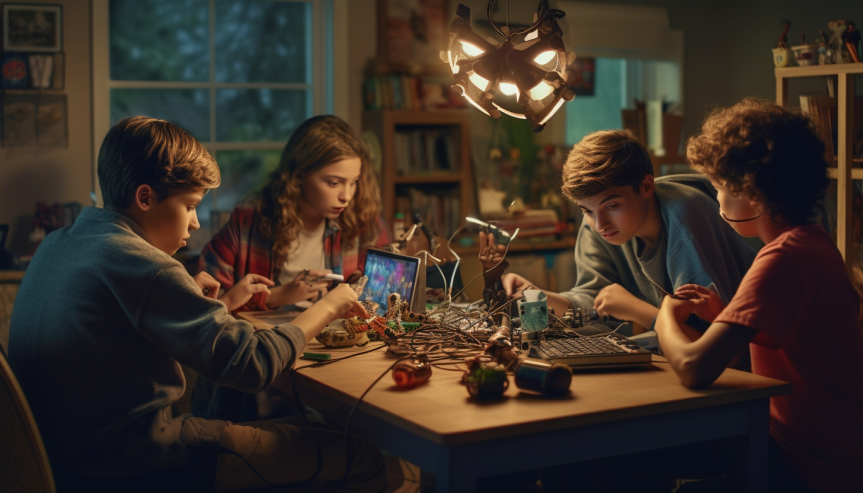 Physics is filled with fascinating topics and phenomena that can pique kids' interest and make them eager to learn more. Optical illusions, for example, can demonstrate how our eyes and brains can be fooled by certain visual patterns, helping children understand that our perception of the world is not always accurate.
Magnetism, another captivating topic, can be explored by demonstrating how magnets interact with each other and with other materials. This hands-on approach helps children gain an understanding of the fundamentals of magnetism and how it can be applied in everyday life.
Incorporating these exciting elements into physics, a branch of science classes, can spark children's curiosity and inspire them to explore the subject further.
Choosing the Right Physics Course for Your Child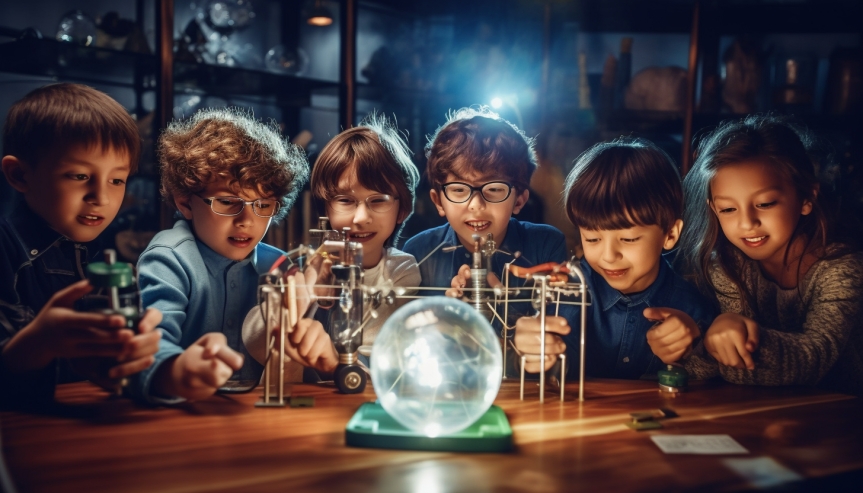 With so many options available, choosing the right physics course for your child can be a daunting task. Nevertheless, by evaluating the curriculum and class options, which include online and in-person classes, you can make an educated decision that best caters to your child's learning needs and preferences.
In the following sections, we will provide an overview of the curriculum and learning objectives in various physics courses and discuss the benefits and drawbacks of online vs. in-person classes. Armed with this information, you can confidently select the perfect physics course for your child.
Curriculum Overview
To select the most suitable physics course for your child, it's crucial to first comprehend the topics and learning objectives each course covers. Physics courses generally focus on the fundamentals of physics, such as motion, energy, and forces, as well as more advanced topics like quantum physics, material science, and electrical engineering.
Reviewing the curriculum overview allows you to confirm whether the course aligns with your child's interests and learning objectives. This will help you select a course that not only teaches essential physics concepts but also keeps your child engaged and motivated to learn.
Class Options: Online vs. In-Person
When choosing a physics course for your child, consider the pros and cons of both online and in-person classes. Online courses offer flexibility in scheduling and location, as well as the ability to learn at your own pace. In-person courses, on the other hand, provide direct interaction with instructors and peers, as well as opportunities for collaboration and in-class participation. MEL Science kits could be a great addition to both.
Each option has its advantages and disadvantages, and the optimal choice depends on your child's individual needs and preferences. Evaluating the advantages and disadvantages of each option enables you to make a well-informed decision that optimally supports your child's learning journey.
Summary
In conclusion, physics classes for kids have the potential to ignite a lifelong love for science and learning. By making the subject approachable and engaging through hands-on activities, real-world applications, and modern technology, we can inspire curiosity and excitement in our children.
As parents, it's essential to choose the right physics course for our kids by considering the curriculum and class options, as well as their individual needs and preferences. Armed with the knowledge and insights shared in this blog post, you are now ready to embark on the exciting journey of helping your child discover the fascinating world of physics.
Frequently Asked Questions
What is physics for elementary students?
Physics is a branch of science that studies matter and its motion, energy and forces. It explains gravity, and the way things move, according to Newton's Laws of Motion.
Physics also helps us understand the behavior and movement of energy such as heat, light and electricity. With the help of physicists like Albert Einstein, we can gain a better understanding of the natural world around us.
What grade is physics 1 taught?
Physics First is an educational program endorsed by the American Association of Physics Teachers that provides 9th grade students with an introductory physics course. This course introduces basic concepts of physics while relying on the limited math skills that the students have from pre-algebra and algebra I.
It is followed by more advanced courses in 11th or 12th grade.
How do I teach my child physics?
Engage your child in hands-on physics activities such as dropping a block to introduce gravity, rolling a ball to illustrate motion, floating a fork to show buoyancy and creating simple machines.
Ask questions and use everyday objects to help bring physics to life.
What role does modern technology play in physics education?
Modern technology plays a crucial role in physics education, providing students with resources such as electrical engineering activities and virtual simulations that help them gain a comprehensive understanding of the subject.
These resources can be used to supplement traditional teaching methods, allowing students to explore physics concepts in a more interactive and engaging way. They can also be used to help students develop problem-solving skills and gain a deeper understanding of the subject.
By the way, By the way, By the way!
What is scaffolded learning, and how can it benefit my child in a physics class?
Scaffolded learning is a powerful teaching method that breaks down complex tasks into manageable steps and provides guidance along the way.
This approach can help students in physics classes build a deeper understanding of the material and develop the confidence to apply their knowledge.